Mother Earth Day Celebration in Los Angeles with
Francisco Aguabella in concert
at the XI Annual Eco Maya Festival
A rare opportunity to see the legendary drummer Francisco Aguabella performing a two hours outdoor concert with his Afrocuban ensemble, next Saturday April 23 from 4 to 6 PM, free to the general public at the XI Eco Maya Festival of Los Angeles.
The Festival has celebrated Mother Earth Day during the last decade with two consecutive days of cross cultural entertainment switching venues from the Barsnall Park to the LA City College campus. But this year the Eco Maya Festival goes back to his Mayan and ecological community roots turning in a street festival at the Eco Village neiborhood of Bimini Place.
Also, audiences in Southern California are used to enjoy performances by Aguabella's Latin Jazz Ensemble. But this Saturday April 23 the master will give us a two hours all-percussions concert based on congas and bata drumms from the ceremonial Afrocuban songs to the electrifiying variants of the rumba.
Born in Matanzas, Cuba, Francisco Aguabella is master of the Yoruba-derived bata drums and rumba form as well as contemporary traditions including Cuban son, salsa, and Latin jazz. He has recorded and/or performed with leading international musical artists such as Mongo Santamaria, Tito Puente, Cachao, Eddie Palimieri, Dizzie Gillespie, Cal Tjader, Lionel Hampton, and Celia Cruz. Aguabella has received a National Heritage Award from the National Endowment for the Arts and is the subject of a documentary film by Les Blank, Sworn to the Drum.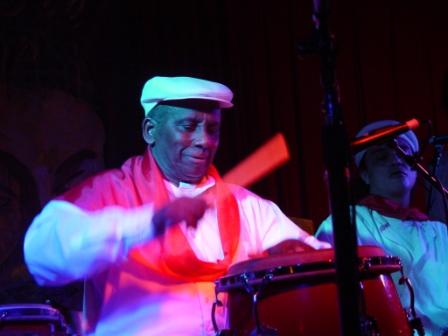 Francisco Aguabella
Photos by Rafael Esparza
These pictures may be downloaded for promotional use by the media and published/reproduced in connection with the artist's performance. Please, credit as photos by Rafael Esparza.
Clips of articles and listings may be mail to:
Stage Of The Arts, Inc. P.O. Box 26688. Los Angeles. CA 90026.
Electronic address is StageOfTheArts@aol.com
©Stage Of The Arts, Inc. 2005
Press Contact: Jorge Luis Rodriguez
tel/fax 323-960-0389
Director@afrocuba.org
Date of event: Saturday April 23, 4 to 6 PM
Place: Los Angeles Eco Village
117 S. Bimini Place,
Los Angeles, CA 90004.
Information line: (323) 960-7879
www.ecomayafestival.com