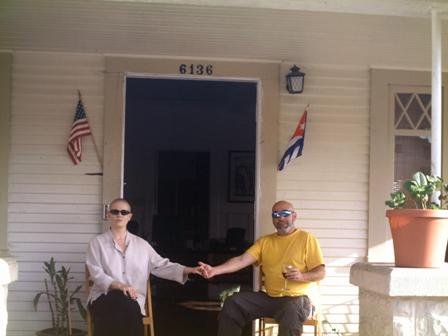 Welcome!
El Patio de Maria en Hollywood
PROGRAM:
SEPTEMBER 11, 7:00 pm: "RICARDO OCHOA, A VIEW FROM THE PEACE AND LOVE AT AVANDARO, SEPT.11/ 1971 TO THE 9/11 FALL OF THE TWO TOWERS ". Special Program.
A LECTURE AND A CONCERT BY RICARDO OCHOA, LEADER OF PEACE @ LOVE BAND THAT LEAD THE AVANDARO CONCERT)
$10 DOOR FUNDRAISING FOR OUR ONGOING ACTIVITIES, NO T LO PIERDAS
The night of Saturday, September 11, 1971, in Valle de Bravo, a two-hour drive from Mexico City, stands as the most triumphant night in the entire history of Mexican rock music. On that night, several major rock groups in Mexico City performed at an outdoor festival in front of an audience of over 250,000 people. It was an event, which will forever be known by the name of the resort at which it was held... AVANDARO.
La fecha de 9/11 quedo escrita en una pagina de musica y libertad para la sociedad mexicana… despues fue un avion bombardeando El Palacio de la Moneda el 11 de septiembre de 1973 y aquellos sueños de peace and love se irian convirtiendo en la pesadilla de las Torres Gemelas, en New York. Convergencias numerologicas que invitan a pensar.
http://www.afrocuba.org/patio.htm Crocodile@afrocuba.org (323)960-0389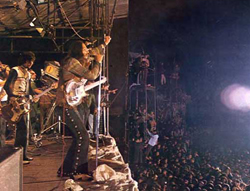 Vea un comentario sobre El Patio de Maria en Contacto Magazine
THE NEXT PROGRAM WILL BE ON OCTOBER 2: First saturday every month.
---
EL PATIO DE MARIA present Saturday August 7: "IMPROPER CONDUCT"
We will be talking about the Gay Culture in Cuba

The kitchen opens at noon. A re-creation of a Cuban paladar with Cuban food and drinks. Theme Leo.
Traveling exhibition of the Archives Casasola from Mexico. Also an art exhibit by Martin Sorrondeguy and Antonio Escalante.
De 5 a 6 p.m., Roberto Quezada y sus libros: Roberto Quezada presents Himenolepis Nana, a novel by Rafael Quezada, the author will be present.
6 a 8 p.m. The paladar remains open with Cuban food and drinks. Theme:: Leo (Roberto Quezada)
From 8 to 9 p.m., el Contrapunteo:
CITA and Maria talk about the improper conduct: the homophobic as political status.
Poems, novel and films by Cuban authors… presenting Improper Conduct by Néstor Almendros (1930-1992), Oscar winner for photography of Sophie's Choice.
Big screen showing of Mariposas en el Andamio (Butterflies On The Scaffold) -1995- by Luis Felipe Bernaza and Margaret Gilpin. A fascinating look at a seldom-seen part of Cuba, this acclaimed documentary follows a group of gay and transvestite cabaret performers as they work to win acceptance in a working-class Havana suburb. Butterflies on the Scaffold is a rare view of what day-to-day life is like for the gay and drag communities in modern Cuba.

A performance by Noé Iván Pacheco.
9 a 10 PM; PATIODROME
Jenny Dove, CITA and Ricardo Ochoa and guests, fireplace, food and drinks at the Patio de Maria.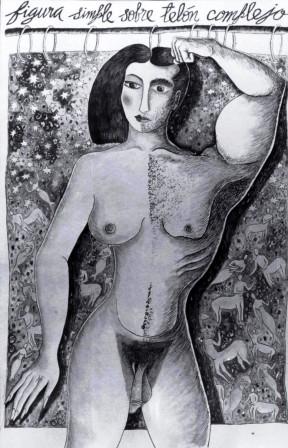 Simple figure on complex drop curtain
by Rolando Estevez
---
PROGRAM:
EL PATIO DE MARIA, 3rd of July, 2004
THE DAY BEFORE TOMORROW
12 noon to 12 midnight: paladar opens with Cuban food and drinks
The theme: Gemini & Cancer.
5 to 6 PM; LOS LIBROS DE QUEZADA
(Panel with Roberto Quezada hosting CITA and Jesus Hernandez Cuellar)
The theme:
How the Cubans and other South Americans got involved with the Independence of the 13 American colonies?
How the US got involved with the Independence of the Cubans and other South Americans?
6 to 8 PM; paladar with Cuban food and drinks
The theme: Gemini & Cancer
8 to 9 PM; CONTRAPUNTEO
(Panel with CITA and Maria hosting Jorge Luis Rodriguez, Pilar Perez, De la Vega, Cuellar y Quezada)
The theme:
Stage Of The Arts, Inc. after 22 years: the challenge
Review from Spanish theater to the cultural academic exchange with Cuba.
Teatro para la expansion del cuadrado, 1982
Latino Ensemble, 1983
Teatro Estudio Jorge Negrete, 1984
Puro Rock, 1987
Teatro del Juglar, 1992
Dark City Lights, 1993
UNITY Arts Center, 1994
Afrocuban Research Institute, 1997
El Patio de Maria, 2004
9 to 10 PM; PATIODROME
(CITA y Ricardo performing with guest groups, fireplace, food and cash bar)
"We hold these truths to be self-evident, that all men are created equal, that they are endowed by their Creator with certain unalienable rights, that among these are life, liberty and the pursuit of happiness. That to secure these rights, governments are instituted among men, deriving their just powers from the consent of the governed. That whenever any form of government becomes destructive to these ends, it is the right of the people to alter or to abolish it, and to institute new government, laying its foundation on such principles and organizing its powers in such form, as to them shall seem most likely to effect their safety and happiness."
- The U.S. Declaration of Independence.
---
SATURDAY JUNE 5, 2004: EL PATIO DE MARIA
12 noon-> From the naked ayes of abigail <-(photography art exhibit)
3 - 4 PM--> An hour with opcion sonica <--(talking music)
5 - 6 PM--------->Los libros de quezada <--(literature)
8 - 9 PM-------------->Contrapunteo <------(multimedia lecture, music & poetry) etc. Open till midnigth, Cuban food, drinks and dreams- Gorki Aguila and Raul Rivero, poetry and rock from the Cuban hell.
MAY
Flowers
the wild flowers, the nameless,
were your last recourse,
the labyrinth where you used to hide,
where you slept late,
children followed you,
you only heard bells and colors,
you spoke of pink animals,
and shipwrecks,
(the children listened in silence)
one day: the door was steel,
when they returned for you, the cell was empty
they only found a flower,
a small one,
that they could not understand
Jorge Luis Rodriguez
MAYO
Las flores,
las silvestres, las innombrables,
fueron tu ultimo recurso,
el laberinto donde solias esconderte,
donde dormias hasta tarde,
los niños salian tras de ti,
tu solo oias campanas y colores,
hablabas de animals rosados, de naufragios,
(los niños te escuchaban en silencio)
un dia: la puerta era de hierro,
cuando volvieron por ti encontraron vacia la celda, solo hallaron una flor
diminuta
que no supieron comprender
Jorge Luis Rodriguez