El Programa: (Click here for Program)
Saturday 04/23/05 & Sunday 04/24/05: Hunab Ku Program at ECO Maya Festival 2005. 10:00 AM TO 7:00 PM
TODAY IS EARTH DAY…
ECO MAYA IS A STREET FESTIVAL THIS YEAR!
SATURDAY APRIL 23 & SUNDAY APRIL 24
LOS ANGELES ECO VILLAGE - 117 S. BIMINI PLACE. LOS ANGELES. CA 90004
---
Saturday 04/02/05: 5-7 PM HUNAB KU PROGRAM
Te esperamos este mismo SABADO 2 DE ABRIL to share the blessings from the Ventura family y toda la magia from the California Stories and the Mayan dances Ajpop Tecun and this very time to celebrate the coming into our Mother Earth of Maria, Ludin Ventura, José Leonardo, Susie and Jesús Hernández Cuéllar…. o sea que,
from 5 to 7 a Mayan gathering,
from 7pm: Fiesta – Friends B-D, Maria's B-D!!!!!!!!!!!
PEACE
---
Saturday 03/05/05: 5-7 PM Hunab Ku Program
TE ESPERO ESTE SABADO DEL OTRO LADO DEL RIO
Te esperamos este mismo SABADO 5 DE MARZO to share the blessings from the Ventura family y toda la magia from the California Stories and the Mayan dances Ajpop Tecun and this very time to celebrate the coming into our Mother Earth of CITA and the iceman commet
Oo sea que,
from 5 to 7 a Mayan Gathering,
from 7pm: THE SOUP con la marimba de Alexis Diaz
and at 9 PM Cita y Ricardo

PEACE
---
Saturday: 02/05/2005: 5-7 PM Hunab Ku Program
The Mayan community in Los Angeles is the focus of this project, which will use already established monthly community gatherings to share the stories of two families within the community.
---
01/01/2005: 5-7 PM Hunab Ku Program
and 7 PM: New Year Celebration.
---
Saturday, December 4, 2004
5 to 7 PM: AJPOP TECUN PROGRAM:
Hunab Ku; gathering Quezada-Ventura families:
"El Patio de Maria" 6136 Romaine Street, LA, CA 90038
The oral traditions, the music and the dances from the Mayan community of Los Angeles came from the creation of the Maya, as well as the mathematical mysteries of the Time-Message that the designers-priests left with the Geometric PI Value of 3.146264371 and how it relates to the Decimal System.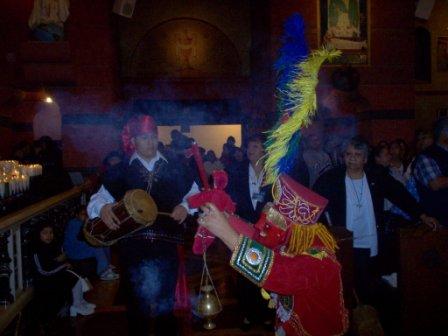 Aj-pop tecum by the altar
7 to 12 PM: NOTICIAS DEL MUNDO PATIODROME:
Cuban dinner and all you can drink ($20).
CITA and Ricardo Ochoa performing.
Galo Nuñez singing his Latin-American songs.

Your choice of meat (Picadillo), chicken (Fricase de pollo) or Salmon. Cuban food and all you can drink. $20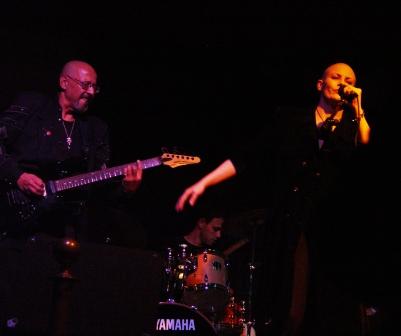 photo by Rafael Esparza
The on line release of the Afrocuban Anthology Winter Journal 2004 at www.afrocuba.org
http://www.afrocuba.org/patio.htm
California Council for Humanities: Hunab Ku
---
El Patio de Maria en La Habana está reconocido como La Catedral del Rock en Cuba. Ahora "lo cerraron"... Por si acaso, nosotros vamos a mantener abierto El Patio de Maria en Hollywood y seguiremos con temas actuales, por eso, miren este affiche: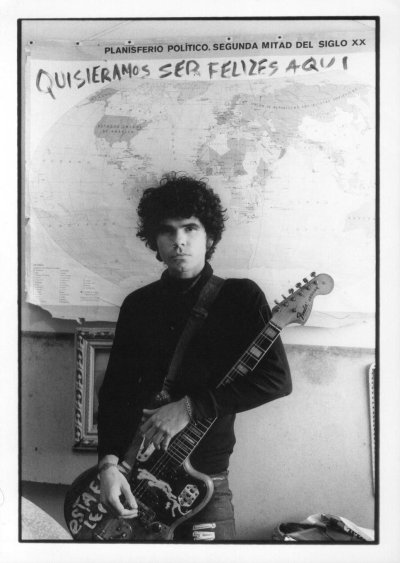 Gorki Aguila Carrasco
-Guitarra y voz líder del grupo de rock Porno para Ricardo
---
PREGUNTAS

Por qué, Adelaida, me tengo que morir
en esta selva
donde yo mismo alimenté
las fieras
donde puedo escuchar hasta mi voz
en el horrendo concierto de la calle.
Por qué aquí donde quisimos árboles
y crecieron enredaderas
donde soñamos ríos
y despertamos enfermos
en medio de pantanos.
En este lugar al que llegamos
niños, inocentes, tontos
y había instalada ya una trampa una ciénaga
con un cartel de celofán
que hemos roto aplaudiendo
a los tramposos.

Por qué me tengo que morir
no en mi patria
sino en las ruinas de este país
que casi no conozco.

Raúl Rivero

- trabaja sólo la familia (y todos los vecinos y amigos que echan una mano y se esconden si viene alguien a cobrar multa),
- servimos comida cubana: arroz blanco, frijoles negros, yuca con mojo y cebollitas (para los vegetarianos) y para los carnívoros habrá picadillo a la habanera o fricasé de pollo... éso pensamos por el momento. Quizá también podamos ir al mercado y comprar un pernil de cerdo (por dólares).
- tendremos la completa y la media ración.
- por ley, el Gobierno sólo permite que las paladares tengan 3 mesas y 12 sillas, así será... y si vienen serán bienvenidos.
En Cuba, el Gobierno dijo que iba a retirar las licencias para ventas de comidas, (o sea, a cerrar las paladares), después dijo que no... por si acaso, ustedes no le digan a nadie que vamos a abrir un paladar.

---
A la venta en EL PATIO DE MARIA:
- LOS MUÑEQUITOS DE MATANZAS LIVE IN L.A. - The VHS and the new DVD of the most authentic rumba tradition in live performance. An Stage Of The Arts production directed by Alvaro Perez.
- SEÑALES, una revista de sueños -100 EJEMPLARES SOLAMENTE-
- CDs de música de Opción Sónica: la música de Jaramar, Jorge Reyes, Felix and the Katz, Almalafa, Slowrider y otros...
- ARDILLAS ENJAULADAS Y LA NAJA, de Roberto Quezada
Nuestro programa cultural no tiene patrocinadores y se mantiene sólo con estas ofertas. Agradecemos a nuestros colaboradores por su aporte y apoyo.
---
PORNO PARA RICARDO
Otros links:
- Freemuse, advocating for freedom of musical expression for musicians and composers.
- Cuba underground, Espacio de expresión artística para una Cuba que no se ve. Porno para Ricardo (Punk Rock), Sociedad Havana Blues (Blues), Moderna Tragedia (Rap cubano), Cacharro (Revista literaria), ...
- Honouring Champions of free speech Index On Freedom of Expression Awards 2004 -
- Soy cubano: Los músicos de Bremen, Un video clip de Porno para Ricardo nominado al Premio Lucas en la categoría de Rock..
---
Si desea colaborar con nuestro programa, ser un patrocinador, un cómplice, un colaborador, presentar una propuesta para exhibir, leer o promover sus obras, contribuir con una donación o echarnos una mano el próximo sábado... escríbale a Cuban Crocodile...

---