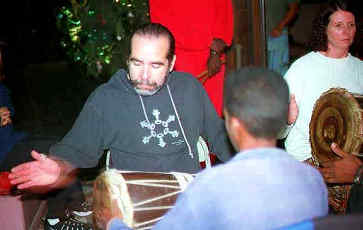 Jorge Luis Rodríguez in a batá class.
(Photo by Derrenck Miles)
Jorge Luis Rodríguez
BIO OF A COMMUNICATOR
" I have lived in the monster and I know its insides ; and my sling is the sling of David ". José Martí, 1895
Jorge Luis Rodríguez, has been producing director of State Of The Arts, Inc. since founded in 1983.
Producing director for the Board of the UNITY Arts Center Consortium, in public/private partnership with the City of Los Angeles Cultural Affairs Department and instructor of Creative Writing and Photography at the William Reagh Los Angeles Photography Center (1994-1998).
Rodriguez has published over a thousand articles on culture and arts for periodical publications, including specialized journals on the subjects of culture, folklore and sociology.
He has written ( Full time/editorial) for La Opinion Newspaper (October 1986 to 1989), News World Communications(Columnist and full time/editorial Oct.1984 to 1986), columnist for Mundo Artistico (1984) and the Daily News weekly edition of Vecinos (October 1989 to 1994). He also created a new publication for the Scripps Howard Company in 1985.
Literary Consultant for the National Council of Culture in Cuba from 1976 to 1979.
Founding member of the Folklore Research Group of Matanzas, Cuba, 1977.
Lecturer hosted by the Ministry of Culture of Spain in the auditorium of the "Centre Culturel Espagnol" of Paris, France, in 1988.
Advisor to the Foreign Languages Department and the Department of Theatre of California State University, Los Angeles, from 1984 to 1989 ("Teatro en Español").
His production of Hijos at the Teatro Studio Jorge Negrete on Whittier Blvd. (1983-1989) received in 1983 the Pick of the Week from the L.A. Weekly, as well as the Dramalogue Award for Best Acting and Best Play. Rodriguez worked as producer for the Teatro Studio from 1983 to 1989, managing year round performing arts workshops (adults and children, music, art history and scenery).
Rodriguez directed En la Red, presented by Amnesty International in 1983; in 1988 directed the premiere of Cinco Horas con Mario in Paris, France, and La Madre Pasota in Spain in 1989. He has also starred in leading roles from The Lesson (Nov., 1982) to acting in the premiere of Invierno en Hollywood at the Gallery Theater (September 16, 1989) while directing the West coast premiere of the play Hay que deshacer la casa.
In April of 1998 Rodriguez produced, directed and co-wrote The Gathering, a multidisciplinary play where Africa and India meet. Promoter for the First Spanish Rock Festival of L.A. at the Sports Arena in 1990. Production of Invierno... for Los Angeles' entry to the VI International Theatre Festival, Coral Gable, Florida, 1991 and to "Teatre del Raval", Castelló, Valencia, Spain, Feb. 1993.
Rodriguez is author of several fictional works, from the children's environmental play Little Juan and the Toys (premiered in Westlake in December 1982) to the multidisciplinary work Dark Year of the Penguin in 1993.
Community representative to the Westlake Project Area Committe of the Community Redevelopment Agency of the City of Los Angeles(1995-1998).
California Arts Council/Coro Southern California Leadership Fellow, 1996.
Sociology
B.A. (EMCC 1969-1973), Journalism M.A. (1977).
Academic lectures presented in 1999:
MUNANSO UNGUNDO (House of the Ceiba): Afro-Cuban syncretism.
American Association of Behavioral & Social Sciences. Second Annual Meeting; February 2-4, 1999.
THE DEATH OF THE LITTLE GIRL, CECILIA:The Palo Monte -Regla Bruja- struggle against racism and poverty., CRI- Florida International University. Miami, Florida 33199. March 18-20, 1999.