PROYECTO PALO MONTE
Matanzas, Cuba
June 14th - 21st, 2002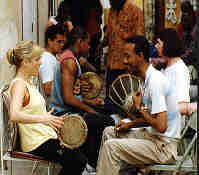 A WEEK OF AFROCUBAN MUSIC, DANCE AND DRUM


The week-long experience of Proyecto Palo Monte is guaranteed to stir
the rhythms in anyone. Whether you are a first time traveler to Cuba or an
expert in Cuba folklore, Proyecto Palo Monte is an opportunity for you
to learn the origins of Cuban music & song firsthand from some of the
island's most respected cultural and spiritual leaders.

This year's trip includes attendance at the first Festival Cuba-Mexico-USA
in Havana on the 15th and in Matanzas on the 20th. The festival will
host a numbers of artist and performers from the three nations; including
Mexican Divas (Cita, Iraida Noriega and Magos Herrera), Head Rush, Mezcla y Felix and the Katz. It will be a chance for you to participate in a celebration aimed at increasing friendship between the nations through artistic expression.

Founders: PROYECTO PALO MONTE is an educational collaboration between Stage of the Arts Inc. of Los Angeles, Sociedad Antropologica de la Isla de Cuba (a non-governmental organization) , and Educational Opportunity Program and International Programs and Services of Cal State University, LA.

Classes & Instructors: AfroCuba de Matanzas, founded in 1957, is an
acclaimed company of Afrocuban purist who perform traditional dances,
percussion and song. Their drummers and dancers will take you step-by step through the roots of Afrocuba rhythms.

Lodging: Casa del Valle hotel in the beautiful Yumuri Valley, based on
double occupancy, private bathroom, telephone, refrigerator, and satellites TV. Facilities include two restaurants, a bar, a snack bar, a bowling alley,
a swimming pool, a gym horseback riding, bicycle rental service, tennis
courts, sauna, therapeutic massage services, etc....

* There will also be an option to camp along the edges of the Canimar
river for those who want to take in the natural surroundings.

Food: The cost of the trip includes meals when you are with the group. For
those adventurous types there is always the option to go off on your own to
eat, drink and enjoy the nightlife of Havana and Matanzas. * All personal
outings not included in price.

Price: The Palo Monte Project will be open to all for the price of $1650.00
for one week in Matanzas and Havana. Price includes round-trip airfare,
ground transportation, food, lodging, and class tuition. Academic credits are
available. A nonrefundable deposit of 200.00 USD is due by May 20th, with final payment due a week before departure. Send check or money order to Stage Of The Arts, Inc. P.O. Box 26688, Los Angeles, CA 90026. Full refund of deposit if the trip is canceled by the facilitators.

There is a 20 minutes video of Proyecto Palo Monte. (323) 343-3200
You may attend CUBAN BODIES: DIGITAL GLOBALIZATION, 7-9 PM, April 29, 2002; South Pasadena Room. 4th floor. Student Union. Cal State University, Los Angeles.

Aché
Look at the previous Palo Monte Project's