Saturday 03/05/05: 5-7 PM Hunab Ku Program
TE ESPERO ESTE SABADO DEL OTRO LADO DEL RIO
Te esperamos este mismo SABADO 5 DE MARZO to share the blessings from the Ventura family y toda la magia from the California Stories and the Mayan dances Ajpop Tecun and this very time to celebrate the coming into our Mother Earth of CITA and the iceman commet
Oo sea que,
from 5 to 7 a Mayan Gathering,
from 7pm: THE SOUP con la marimba de Alexis Diaz
and at 9 PM Cita y Ricardo

PEACE
---
Saturday: 02/05/2005: 5-7 PM Hunab Ku Program
The Mayan community in Los Angeles is the focus of this project, which will use already established monthly community gatherings to share the stories of two families within the community.
The stories, which will be gathered using video, photography and audio, will be presented to the general public at the annual Eco Maya Festival in April 2005, a multicultural environmental festival attended by thousands of people.
The stories will be gathered from two families: the Ventura family, one of whose members is a Mayan priest with generations of memories and traditions from his native Guatemala, and the Quezada family, one of whose members – Roberto Quezada -- is a well-known Guatemalan writer.
---
Saturday: 01/01/2005: 5-7 PM Hunab Ku Program
7 PM: New Year Celebration.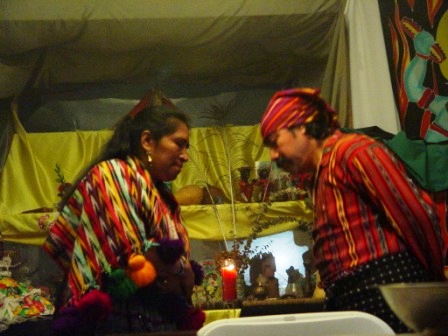 Alicia y José Ventura: danza tradicional
---
Saturday, December 4, 2004
5 to 7 PM: AJPOP TECUN PROGRAM:
Hunab Ku; gathering Quezada-Ventura families:
"El Patio de Maria" at 6136 Romaine Street, LA, CA 90038
The oral traditions, the music and the dances from the Mayan community of Los Angeles came from the creation of the Maya, as well as the mathematical mysteries of the Time-Message that the designers-priests left with the Geometric PI Value of 3.146264371 and how it relates to the Decimal System.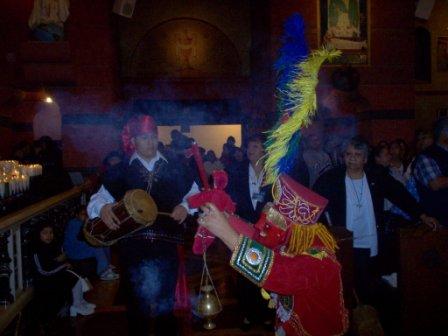 Aj-pop tecum by the altar
7 to 12 PM: NOTICIAS DEL MUNDO PATIODROME:
Cuban dinner and all you can drink ($20).
CITA and Ricardo Ochoa performing.
Galo Nuñez singing his Latin-American songs.

Your choice of meat (Picadillo), chicken (Fricase de pollo) or Salmon. Cuban food and all you can drink. $20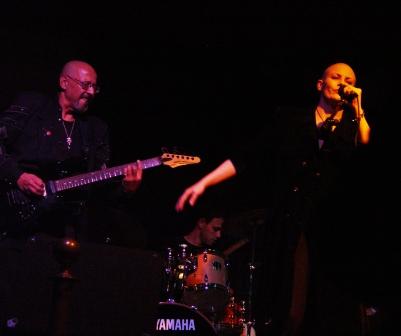 Cita & Ricardo Ochoa
photo by Rafael Esparza
The on line release of the Afrocuban Anthology Winter Journal 2004 at www.afrocuba.org
http://www.afrocuba.org/patio.htm
There are over two million Mayan people of Los Angeles. Mayas came from the Southern territories of Mexico: Yucatan, Campeche, Tabasco and Chiapas, as well as Quintana Roo, El Salvador, Guatemala, Honduras, Nicaragua, Costa Rica and Belize.
The Eco Maya programs of Stage Of The Arts, Inc. (S.O.T.A), seek to improve and provide working and living space for aborigines' cultures, artists, writers and musicians. Year around meetings, workshops, cultural events and community gatherings are open to the general public, including visiting scholars and seminars on sustainability conducted at our home base in Los Angeles EcoVillage with physical locales at 127 ½ and 117 South Bimini Place, Los Angeles, California 90004.
We are approximately 3 miles west of downtown on Bimini and White House Place, one block east of one of LA's most auto congested traffic corridors, Vermont Avenue.
The two blocks mixed use working class neighborhood has a rich geological and social history. Home of the historic Bimini Baths from 1901 to 1951, the Bimini Slough also wended its way around the neighborhood. The old red trolley car, destroyed in the 50's, had its turn-around on Bimini Place as well. Approximately 500 persons live in 13 historically significant apartment buildings consisting of 164 units of housing. An alcohol and drug recovery home serving approximately 100 persons is also located on the block along with two auto repair shops, a K-2 public school, the Bresse Foundation and Youth Center, the Mijoo Peace Church and a public adult school for English as a Second Language. Virgil Middle School is located immediately north of Ecovillage.
As a culmination of our year around organizing and promotional activities, ECO Maya produces and presents the only Latino environmental arts festival that re-enforces the need to create awareness of environmental networks and resources for urban community through cultural heritage.
ECO Maya Festival, an environmental hemispheric event, connects the indigenous cultural heritage of the Americas, with the urban mecca of diversity, Los Angeles, California. A one of a kind event, the festival provides a cross-cultural nesting environment where families join in a two-day celebration of culture, education, entertainment, and fun. The festival (directed by Julio Santizo) brings universal balance with all cultures through the celebration of Mother Earth Day proposed to be presented April 22 & 23, 2005 at McArthur Park in partnership with the Sidewalk Vendors District and Mama's Hot Tamales, projects of the Institute For Urban Research & Development (IURD).

Hunab Ku is the concept the ancient Mayans said is the gateway to other galaxies beyond our sun. Gazing upon this concept allows you to transcend the barriers of perception and time.
The Hunab is also an unit of length rediscovered by the researcher Hugh Harleston Jr. who after leaving his position of professor at Rochester University, moved to Mexico and living near the Teotihuacan Pyramidal Complex for more than 25 years dedicated his life to find out what unit of length was used by the designers-priests.
Hunab Ku rebuilt the world after three deluges, which poured from the mouth of a sky serpent. The first world he created was inhabited by dwarfs, the builders of the cities. The second world was inhabited by the Dzolob, 'the offenders', an obscure race. The third and final world Hunab Ku created for the Maya themselves.
The oral traditions, the music and the dances from the Mayan community of Los Angeles came from the creation of the Maya, as well as the mathematical mysteries of the Time-Message that the designers-priests left with the Geometric PI Value of 3.146264371 and how it relates to the Decimal System.
The Hunab Ku program will be gathering stories from the life of six members of the Ventura family and six members of the Quezada family. The lead storytellers will be Jose Ventura and Roberto Quezada.
Jose Ventura is a Mayan priest with generations of memories and traditions to share from his native Guatemala, a family of talented dancers of Ajpop Tecun that run into their Californian sons and daughters.
Roberto Quezada is a well recognized Guatemalan writer who will turn 77 next year, First Prize of Novel for "Ardillas Enjauladas", a journalist and translator who's been living in Los Angeles since 1952 with his Californian family.
There will be interactive multimedia presentations in the frame of archival research testimonials from the history of the Mayan world, in the frame of those stories the Quezada and the Ventura family will share their own stories and legacy.
The gatherings will be taken place at "El Patio de Maria" a multidisciplinary center of information for multicultural researches and documentation of contemporary Hollywood.
El Patio de Maria is home of the AfroCuban Research Institute at 6136 Romaine Street just off Vine, both programs of Stage Of The Arts, Inc.
The program will be offered in Mayan Quiche, Spanish and English languages.
2. Audience and outreach:
The first Saturday of every month, a gathering occurs from noon to midnight at "El Patio de Maria" with several formats developing from documentary films to music and theatrical performances, art exhibitions, books reviews and multimedia lectures since April 2004.
The actual events are documented at www.afrocuba.org/patio.htm as well as by The Los Angeles County Cultural Calendar at Experience LA, Cultural Treasures and Regional Transit.
The participants and the audience go from twenty to one hundred escalating during the day. The Hunab Ku program will begin on December 4, 2004 and the recurred Saturdays until April 2004.
El Patio is hosted by the performer CITA and the researcher Maria Esther Ortiz in a whole-day interface between artists, writers and active audiences. The wall between the stories and the storytellers is very narrow and the audiences become participants from one set to the next.
The story-demonstrations presented here are to be recorded by photography, video and spoken word, …a mix- media digital document will be written under the artistic direction of Jorge Luis Rodriguez and will develop into a digital electronic sequence for a website application.
By Saturday, April 22nd and Sunday 23rd, an on going presentation of the developed program will be staged at the 11 Annual Eco Maya Festival.
The symbol of Hunab Ku will become the theme of the 2005 Eco Maya Annual Festival and will be printed on thousands of t-shirts available during the two days event that brings together a very diverse audience of 15 thousand at the Hollywood hills of the Barnsdall Arts Park and the campus of Los Angeles City College during the last decade.
The actual media and marketing resources of the AfroCuban Research Institute at "El Patio de Maria" and the media outreach and specific promotion from the Eco Maya Festival will be carrying the visual and the conceptual dimension of the transnational Mayan communities of California.
3. Outcomes:
Our short-term goal for the fiscal year 2003-2004 was to facilitate the transnational and multidisciplinary studies from the AfroCuban Research Institute into the developing of the ECO Maya network of transnational communities. The Hunab Ku project will allow serving as a demonstration of the large Central American convergence of Caribbean and Central American transnational convergences in contemporary California.
Hunab Ku is just a methodology of dialogue; maybe unexpected representations will become a very relevant story by the end of this re-creation of oral history.
Our long term goal is the expansion of our actual experience on working and living at the Los Angeles Ecovillage: the development of ECO Maya Village; an ecological Mayan cultural environment to host an artist's community, including residents and non-resident members.
The Eco Maya Survey may be reviewed at http://www.afrocuba.org/ecomaya.htm
The mayor advantage of enlarging our understanding of California and what it means to be a Californian will be the comprehension of the TRANSCULTURALIZATIONAL lines of international relations according to the thesis of the Cuban scientist Fernando Ortiz, versus the understanding of ACCULTURATION as one culture is to be assimilated by the "superior culture" of the slave master (Powel, 1889).
The ethnocentric traps of promoting the "acculturation" are a severe post-colonial crisis of Cultural Anthropology nowadays.
As expressed by Don Fernando Ortiz in 1940: "We understand that the word transculturation better's the different phases of the transitive process of one culture to another, because this doesn't only consist on acquiring a different culture that is in rigor it indicates the Anglo-American voice of " acculturation ", rather than the process which also implies not necessarily the loss or eradication of a precedent culture".
4.Project personnel:
Maria Esther Ortiz is the Editor of www.AfroCuba.org, a website published by Stage Of The Arts, Inc., and will serve as the Hunab Ku Project Director. She will perform editorial assignments, collaborate on the design, research and production of the project, conduct the public presentations and maintain the project budget.
She has a J.D. from Havana Law School, PhD in Business Law from the University of Havana, Cuba. She has experience with community cultural programs, radio and TV cultural programs. She can be reached at: 6136 Romaine St., Los Angeles. CA 90038. (323) 960-0389. Email: Ortiz at afrocuba.org

Roberto Quezada is a writer and journalist. Winner of the National Prize of Novel in Guatemala in 1983; he was born in that Central American country in 1928. From 1952 he lives in the United States, where he writes novels and stories, he is translator and proprietor of the "Libreria Hispanoamerica" bookstore in the area of McArthur Park, Los Angeles. His role: to tell the story of Quezada family in California and provide for interpretative services for links between life and literature; roots, traditions, dreams and experiences. Quezada is an excellent storyteller; he is the host of "Roberto Quezada y sus libros" en "El Patio de Maria en Hollywood". He can be reached at: 2502 W 6th Street, Los Angeles, California 90057. (213)384-6084. Email: robertoq at aol.com

José Ventura is from Guatemala. He is a Mayan priest, with the knowledge of nature, history, legends and traditions to share from his native country. He is a Director of talented dancers of Ajpop Tecun, Mayan dances from Guatemala, which run into their Californian sons and daughters. His role is as culture bearer of the Mayan traditions, as a bridge between the ancient roots and the present. He can be reached at (213) 250-3249 or josevsiguensa at sbcglobal.net, Los Angeles, California.

José Leonardo is the administrator and cultural facilitator for Ajpop Tecun dances and music and will coordinate all activities and scheduling for the Ventura family. He is a professional announcer and folklore promoter into many cultural events in Los Angeles and the City of Glendale. He can be reached at (818) 298-8918 or guatemaya0104 at hotmail.com, Los Angeles, California.

Jorge Luis Rodriguez, president of Stage Of The Arts, Inc. is the Director of the AfroCuban Research Institute (www.afrocuba.org) in collaboration with Education Opportunity Program of California State University in LA. He wrote several studies of Afrocuban traditions. He has been full time journalist and photographer for La Opinion Newspaper and News World Communications; a researcher, with skills of written and verbal communications in Spanish language. He will interview the Quezada – Ventura families, take the record of histories and the edition of sound and images, also he will write press releases and promotions. He is an experimented producer and communicator. He facilitates public affairs and foster interdisciplinary communications for multicultural communities. He is able to help design an effective campaign. Coro Southern California Arts Leadership Fellow, 1996. He can be reached at: 6136 Romaine St. Los Angeles. CA 90038. (323) 960-0389. Email: director at afrocuba.org

David Sandoval is presently the Director of the Cal State L.A. Educational Opportunity Program. An EOP graduate, Mr. Sandoval entered the program in 1969 as a special admit student. During the 1960's, he was a student and community activist (UMAS, MECHA, Brown Berets), combining his media talents with his concern for community by writing and producing short video and film documentaries. His credits include "Guadalupe" and "Una Nacion Bilingue" for the national PBS "Realidades" series. He also served as National Coordinating Producer for "Infinity Factory," a PBS series on math, targeted to Black and Latino children. In the late 70's, he co-hosted and produced a weekly cultural and public affairs radio show entitled "La Vida Latina" for KPFK-FM, a Pacifica station.
In 1971, Sandoval co-produced the first Los Lobos album "Los Lobos Del Este De Los Angeles: Just Another Band From East L.A."
He has traveled extensively throughout Europe, Mexico, and what was the former Soviet Union, and sometimes leading EOP students on study/lecture tours to Chiapas, Cuba and Selma, Alabama.
Mr. Sandoval has a Bachelor's Degree in Chicano Studies and a Master's Degree in Education from Cal State L.A. He also attended UCLA, taking graduate course work in motion picture and television production. He has completed all coursework in the doctoral program in Educational Management at the University of La Verne. He can be reached at: Educational Opportunity Program, California State University in Los Angeles. 5151 State University Drive, Los Angeles. California 90032. (323) 343-3000. Email: davids at cslanet.calstatela.edu
5. Sponsoring organization
Stage Of The Arts, Inc. is a grassroots arts and humanities organization, a non-for profit 501 (c) (3) California Educational corporation founded June 15, 1982 in the MacArthur-Echo Park neighborhood.
Arts education and cultural activities are our working tools to promote social change and community gathering in the City of Los Angeles. The Board of Directors has empowered its constituency to operate a variety of programs during the last two decades: E.g.: Rock-A-Mole musicians working for universal healthcare and living wages. (1994-present) Power of Music workshop for self-production of public events (1994-present).
UNITY Arts Center of Westlake (1994-98) in public/private partnership with the City of LA Cultural Affairs Department and "Teatro Studio Jorge Negrete" (1985-89) providing a physical locale for artistic and educational development.
Each program has been operated by an organizing committee or an operating board.
Our Board of Directors, made out of Latino writers, artists and community activists, fosters leadership development within our organization by applying "consensus decision making" among each level of participation.
Since 1995 the actual programs of SOTA are grouped into the ECO Maya committee (100 members) and the AfroCuban Research network (412 registered members).
6. Timeline
Saturday December 4, 2004:
5 pm, Phase 1, Hunab Ku; gathering Quezada-Ventura
"El Patio de Maria" 6136 Romaine Street, LA, CA 90038
Contact: Jorge Luis Rodriguez (323) 960-0389 or Ecomaya2004@aol.com
Second week of the month: Editing of documentation and media recording.
Third week: Digital design and web development.
Fourth week: Digital communications and internet uploading.

Saturday January 1, 2005:
5 pm, Phase 2, Hunab Ku; gathering Quezada-Ventura
"El Patio de Maria" 6136 Romaine Street, LA, CA 90038
Contact: Jorge Luis Rodriguez (323) 960-0389 or Ecomaya2004@aol.com
Second week of the month: Editing of documentation and media recording.
Third week: Digital design and web development.
Fourth week: Digital communications and internet uploading.

Saturday February 5, 2005:
5 pm, Phase 3, Hunab Ku; gathering Quezada-Ventura
"El Patio de Maria" 6136 Romaine Street, LA, CA 90038
Contact: Jorge Luis Rodriguez (323) 960-0389 or Ecomaya2004@aol.com
Second week of the month: Editing of documentation and media recording.
Third week: Digital design and web development.
Fourth week: Digital communications and internet uploading.

Saturday March 5, 2005:
5 pm, Phase 4, Hunab Ku; gathering Quezada-Ventura
"El Patio de Maria" 6136 Romaine Street, LA, CA 90038
Contact: Jorge Luis Rodriguez (323) 960-0389 or Ecomaya2004@aol.com
Second week of the month: Editing of documentation and media recording.
Third week: Digital design and web development.
Fourth week: Digital communications and internet uploading.

Saturday April 2, 2005:
5 pm, Phase 5, Hunab Ku; gathering Quezada-Ventura
"El Patio de Maria" 6136 Romaine Street, LA, CA 90038
Contact: Jorge Luis Rodriguez (323) 960-0389 or Ecomaya2004@aol.com
Second week of the month: Editing of documentation and media recording.
Third week: Digital design and web development.
Fourth week: Digital communications and internet uploading.

Saturday, April 23rd and Sunday 24th
Eco Maya Festival at Los Angeles Eco Village, (117-133 Bimini Place & 1st. Street, one block East of Vermont Blvd.). Los Angeles. California
Multimedia, interdisciplinary performance from 10 am to 7 pm
Internet broadcasting and data compilation for multimedia interface.
Contact: Jorge Luis Rodriguez at (323) 707-7983 or Ecomaya2004@aol.com

Final web application online by June 30 (end of fiscal year). Details TBA
Ecomaya2004 at aol.com and www.afrocuba.org/ecomaya.htm
www.ecomayafestivals.com

Ajpop Tecum